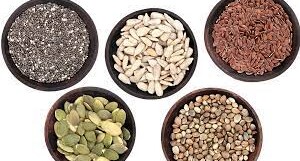 Private Home Care also loves the nutritious seeds included in trail mix! Here are health benefits of eating superfood seeds:
-Essential Fats: All seeds are high in essential fats like omega-3, which is excellent for heart and brain function and often lacking in most diets.
-Protein and essential amino acids: Seeds are generally an excellent source of protein. Quinoa, amaranth, chia and hemp seeds are particularly noteworthy since they offer complete proteins, meaning that they contain all 9 essential fats required for optimal health.
-Nutrient dense: Eating a variety of different seeds will ensure that you receive a healthy dose of phosphorus, magnesium, selenium, manganese, zinc, iron, copper, B vitamins, vitamin K and antioxidant rich vitamin E (and more). All of these nutrients are essential for supporting health on multiple levels.
-Excellent source of fiber: Seeds are naturally full of fiber. Fiber is good for blood sugar control, helping to slow the breakdown of carbohydrates and absorption of sugar. It is also great for promoting healthy bowel movement, heart health and weight-loss management.
-Lower cholesterol and blood pressure: Seeds possess important cholesterol-fighting fiber known as lignans, which in turn lower blood pressure.
-Antioxidant Rich Seeds: All seeds have a beneficial level of antioxidants